The Benefits of Parker Push-Lok®
Premium products and leak-free solutions are what you'll get with every Parker Push-Lok hose and fitting system. With the most complete line of high-quality, low-pressure hose and fittings, Push-Lok is the answer to all your instrumentation needs.
Offering easy assembly and organization
The Push-Lok system is easy to use. No clamps or special tools are required during installation. And with Parker's exclusive colorcode system, you can inventory, maintain and identify your hose needs easily and efficiently.
Providing exceptional value
Parker Push-Lok assemblies can be made in seconds, saving valuable time and money. What's more, Push-Lok fittings are reusable. Just replace the hose at the job site without any special tools or clamps.
Meeting all your special needs
Helping you maintain a clean environment on the job is another important reason to use Parker's Push Lok system. Its unique seal ensures reliability and durability for clean environment use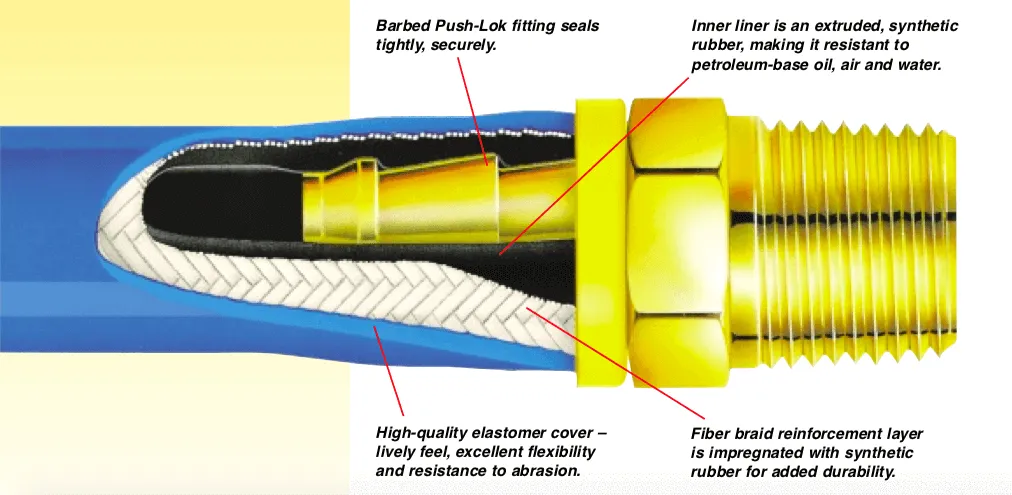 Advantages of the Push-Lok Color Coding System
Easier, faster line identification
In applications where a number of hose lines carry different media, Push-Lok colors reduce timely "tracing" of lines, preventing disconnection of the wrong line and unnecessary, costly downtime.
Download catalog
More efficient, preventive maintenance
Using color-coded Push-Lok hose is an excellent way to keep track of scheduled replacement of lowpressure hose in your operations. Just assign a different color hose to each replacement period and eliminate the possibility of missing lines scheduled for replacement.
Enhance your products appearance
For equipment manufacturers and their customers, using Push-Lok color hoses can vastly improve the visual and functional appeal of work equipment, on-line systems and the overall facility.
Help identify industrial drop lines
Use Push-Lok colors to identify drop line length and diameter for faster and easier replacement. When replacing by color, the right size and length are automatically set.
GST® II – General Service Hose
Series 7031(R) (Green), Series 7057 (Blue), Series 7092 (Red), Series 7093 (Black) and Series 7096 (Yellow)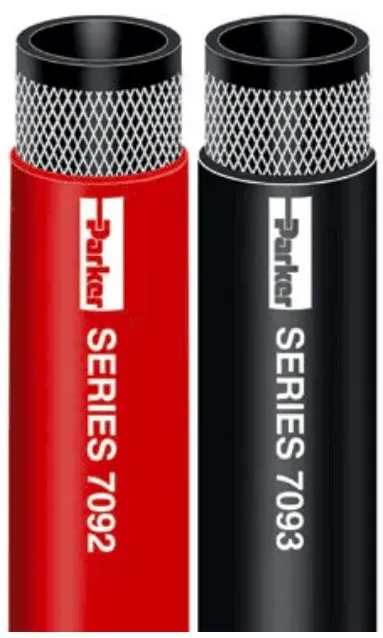 GST® II hose is a versatile general purpose hose designed to handle air, mild chemicals and water. The hose construction incorporates a tube that is compatible with light oil mists found in air tool lubricating systems, and the multiple plies of textile reinforcement provide flexibility. The cover is resistant to abrasion, heat and ozone, and is available in multiple standard colors for color-coded identification.
Product Details
Tube: Black EPDM
Reinforcement: Multiple textile plies
Cover: Black, blue, green, red, yellow EPDM; smooth finish
Temp. Range: -40°F to +212°F (-40°C to +100°C)
Brand Method: White ink on black, blue, green, red hose,black ink on yellow hose
Brand Example: PARKER (SERIES) GST® II (ID) XXX PSI MAX WP
MADE IN: USA (DATE CODE)
Design Factor: 4:1
Industry Standards: ARPM Class C oil resistant tube; ARPM IP-7 (7031R only)
Applications: • Air (including oil mist), mild chemicals, water • Agriculture, construction, general industrial
Vacuum: Not recommended
Compare to: Boston Bosflex A/W; Gates Adapta Flex; Thermoid Valuflex GS; Veyance Horizon General Purpose
Packaging: Reels; cartons
Download catalog

AIRMASTER
Exceeds IS446 : 1980 Type
Technical Details
Application: High Pressure Rock Drill and Pneumatic Service in drilling. Quarries, Construction and general Industry
Inner Tube: Heat and Oil Mist Resistant Synthetic Rubber
Reinforcement: One high tensile steel wire braid
Cover: Synthetic Rubber
Temp. Range: -350C to +1000C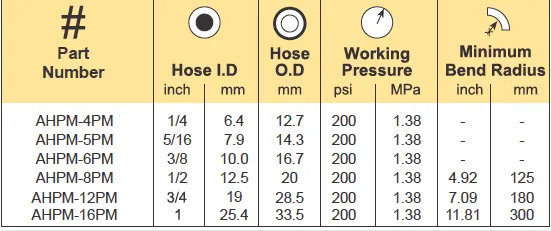 PNEUMATIC TOOL HOSE
Exceeds IS 446 Type 2
Technical Details
Inner tube: Synthetic Rubber
Reinforcement: One Textile braid
Outer: Synthetic Rubber
Service Temp: -300C to +820C

AIR / WATER HOSE
Exceeds IS 446 Type 1 and 444 Type 2
Technical Details
Inner tube: Synthetic Rubber
Reinforcement: One Textile braid
Outer: Synthetic Rubber
Service Temp: -300C to +820C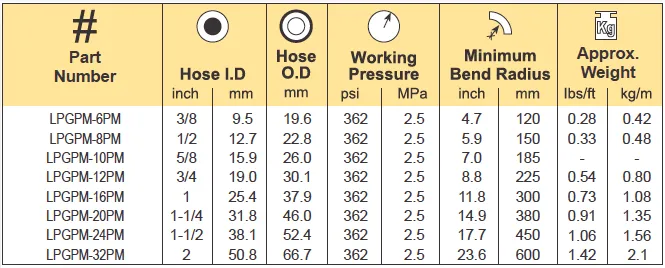 LPG HOSE
BS 4089:1989 TYPE 1
Technical Details
Application: Transfer of LPG in Liquid or Vapour Form which is unvented between operations including automotive.
Inner Tube: Synthetic Rubber
Reinforcement: One High tensile Steel Wire Braid
Cover: Synthetic Rubber
Temp Range: -200C to 450C

FUEL DISPENSING HOSE – I
BS EN 1360 TYPE 3: ATEX Approved
Technical Details
Application: Fuel Dispensing
Inner Tube: Synthetic Rubber
Reinforcement: One wire braid
Cover: Synthetic Rubber
Temp. Range: -400C to 550C
Download Catelog