Push-in Fittings
The push-in fitting is the most intuitive way of connecting tubes to a fitting in order to create a fluid distribution network. Thanks to its quick installation, versatility and exceptional lifespan, the push-in fitting contributes to improving machine efficiency. Moreover, the advanced patented design of the LF 3000® contributes to reducing total cost of use.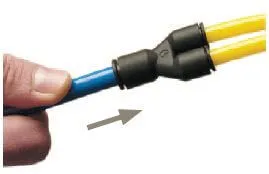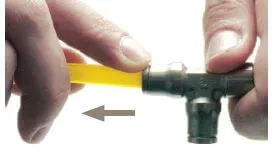 Connection
Manual connection and disconnection without the use of tools
Release button available in 5 colours, to identify different circuits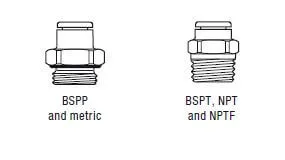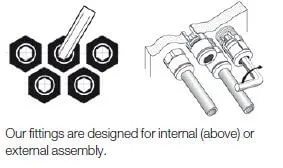 Assembly
All straight connectors are fitted with an internal hexagon for ease of assembly with the use of an Allen spanner.
This enables assembly in restricted spaces.​
Sealing and 100 % Leak-Tested
The quality of the sealing material, selected specifically for the application, ensures excellent longevity of the fitting. In this way, Parker Legris offers the best return on investment on the market.
Unique and patented sealing technology
Rigorous selection of materials: NBR/EPDM/FKM
Benefits of Use
The lowest leak rate on the market, whatever the temperature and length of use
Perfectly suited to primary vacuum
Full bore for optimum flow
Optimum gripping of tube guaranteed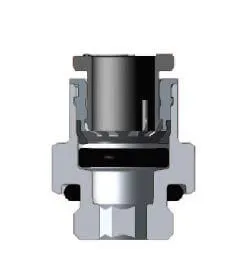 Gripping Ring Technology
Ideal for polymer tubing, even for soft tubing
Excellent tube guidance
No tube movement under pressure
Very compact solution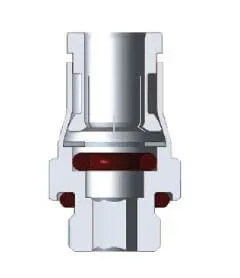 Gripping with Collet
For polymer and grooved metal tubing
Resistant to high pressure, excellent lifespan
Robust solution for harsh environments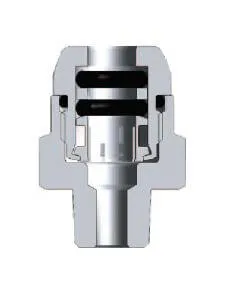 Gripping with Reversed Collet
For rigid polymer and grooved metal tubing
Resistant to high pressure
Excellent durability
Optimum sealing

LF 3000® Push-In Fittings
Fluids: compressed air
Materials: technical polymer, nickel-plated brass, NBR
Pressure: 20 bar
Temperature: -20°C to +80°C
Ø metric: 3 mm to 16 mm
Ø inch: 1/8″ to 1/2″

LF 3200 Push-In Fittings (3 mm)
Fluids: compressed air, non-corrosive fluids
Materials: chemical nickel-plated brass, NBR
Pressure: 20 bar
Temperature: -15°C to +80°C
Ø metric: 3 mm

LIQUIFIT® Push-In Fittings
Fluids: water, beverages, coolants,inert gases
Materials: biopolymer, EPDM, nickel-plated brass or stainless steel
Pressure: 16 bar
Temperature: -10°C to +95°C
Ø metric: 4 mm to 12 mm

LF 6270 Connectors for Optic Fibre Networks
Fluids: compressed air, industrial water
Materials: technical polymer, NBR
Pressure: 25 bar
Temperature: -20°C to +80°C
Ø metric: 5 mm to 14 mm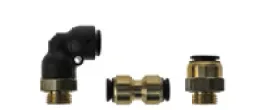 Prestomatic Push-In Fittings
Fluids: compressed air.
Materials: technical polymer, brass, NBR
Pressure: 25 bar
Temperature : -50°C to +100°C
Ø metric: 6 mm to 16 mm

Braking System Adaptors
Fluids: compressed air
Materials: brass, NBR
Pressure: 25 bar
Temperature: -40°C to +100°C

LF 3600 Push-In Fittings
Fluids: compressed air, slightly corrosive industrial fluids
Materials: high phosphorus nickel plated brass, FKM
Pressure: 30 bar
Temperature: -25°C to +150°C
Ø metric: 4 mm to 14 mm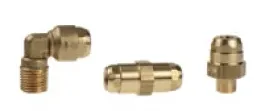 LF 6100 Push-In Fittings
Fluids: compressed air, oil, water
Materials: brass, NBR
Pressure: 60 bar
Temperature: -40°C to +120°C
Ø metric: 4 mm to 10 mm

LF 3800/LF 3900 Push-In Fittings
Fluids: industrial fluids, chemicals,medical fluids, beverages
Materials: stainless steel, FKM
Pressure: 30 bar
Temperature : -25°C to +150°C
Ø metric: 4 mm to 12 mm
Ø inch: 3/16″ to 1/2″
Technical Tubing and Hose

PA Tubing
Fluids: Compressed air, industrial fluids
Materials: 2 polyamide grades (semi-rigid and rigid) , 7 colours
Pressure: 58 bar
Temperature: -40°C to +100°C
O.D. metric: 3 mm to 16 mm
O.D. inch: on request

Fireproof High Resistance PA Tubing
Fluids: compressed air, coolants, lubricants
Materials: Polyamide with flame retardant additive , 5 colours
Pressure: 50 bar
Temperature: -50°C to +100°C
O.D. metric: 4 mm to 12 mm

Anti-Spark PA or PU Tubing, with or without PVC Sheath
14Mpa Position Detecting Hydraulic Cylinder
Fluids : compressed air, coolants,industrial fluids
Materials: Semi-rigid polyamide with PVC sheath, Polyurethane ether with PVC sheath , Single layer polyurethane ether , 4 colours
Pressure: 36 bar max.
Temperature: -20°C to +80°C
O.D. metric: 4 mm to 14 mm

PU Tubing
Fluids: compressed air and food industry fluids ("crystal")
Materials: Polyurethane ester or ether , Polyurethane food-grade "crystal" , 7 colours
Pressure: 12 bar
Temperature: -20°C to +70°C
O.D. metric: 3 mm to 16 mm
O.D. inch: on request

Antistatic PU Tubing
Fluids: compressed air
Materials: Polyurethane with conductive particles , Black (10² Ω.m)
Pressure: 10 bar
Temperature: -20°C to +70°C
O.D. metric: 3 mm to 12 mm

PE Tubing
Fluids: many fluids
Materials: Low density polyethylene , 50% reticulated polyethylene, food-grade , 7 colours
Pressure: 20 bar
Temperature: -40°C to +95°C
O.D. metric: 4 mm to 16 mm
O.D. inch: 1/8″ to 1/2″

FEP Tubing
Fluids: many fluids
Materials: Fluoropolymer: fluorinated ethylene propylene, food-grade , Transparent
Pressure: 28 bar
Temperature: -40°C to +150°C
O.D. metric: 4 mm to 12 mm

PFA Tubing
Fluids: many fluids
Materials: 3 grades of perfluoroalkoxy , High purity food-grade, clear , Standard food-grade, 3 "crystal" colours , Antistatic (0.2 Ω.m), black
Pressure: 36 bar
Temperature: -196°C to +260°C
O.D. metric: 4 mm to 12 mm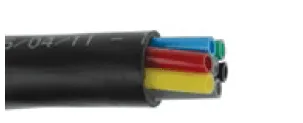 PA Multi-Tubing
Fluids: compressed air, industrial fluids
Materials: Semi-rigid polyamide with PVC sheath , 6 colours
Pressure: 24 bar
Temperature: -40°C to +80°C
O.D. metric: 4 mm to 8 mm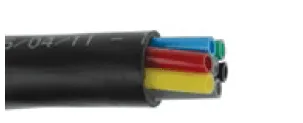 Twin PU Tubing
Fluids: compressed air
Materials: Polyurethane ester , 1 to 2 colours
Pressure: 14 bar
Temperature: -20°C to +70°C
O.D. metric: 4 mm to 8 mm

Recoil PA Tubing
Fluids: compressed air, industrial fluids
Materials: Semi-rigid polyamide , 2 colours , Recoil tubing with fittings
Pressure: 20 bar
Temperature: -20°C to +80°C
O.D. metric: 6 mm to 8 mm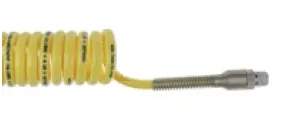 Recoil PU Tubing
Fluids: compressed air
Materials: Polyurethane ester or ether , 3 colours , With or without fittings
Pressure: 10 bar
Temperature: -20°C to +70°C
O.D. metric: 4 mm to 12 mm
I.D. inch: 3/8″ and 19/32″

Braided PU Recoil Hose
Fluids: compressed air, industrial fluids
Materials: Translucent blue polyurethane, reinforced with a polyester braid , Assembled with threaded fitttings
Pressure: 15 bar
Temperature: -40°C to +75°C
I.D. inch: 1/4″ and 5/1

Recoil PU TubingBraided PVC Hose
Fluids: compressed air, non-corrosive or alimentary fluids (translucent PVC)
Materials: Polyvinyl chloride with braided polyester, Translucent (food-grade) or blue (industrial)
Pressure: 15 bar
Temperature: -25°C to +70°C
I.D. metric: 4 mm to 19 mm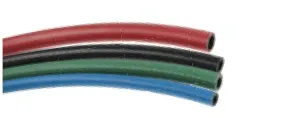 Self-Fastening NBR Hose
Fluids: compressed air, coolants
Materials: Nitrile butadiene rubber reinforced with a polyamide braid , 4 colours
Pressure: 16 bar
Temperature: -20°C to +100°C
I.D. inch: 1/4″ to 3/4″
Function Fittings

Flow Control Regulators
Function: controls the speed of the cylinder rod
Materials: polymer, metal, stainless steel
Pressure: 10 bar
Temperature: 0°C to +70°C
Ø metric: 3 mm to 18 mm
Threads: BSPP, BSPT, metric
Blocking Fittings
Function: provides safety by locking the cylinder piston
Materials: nickel-plated brass, polymer
Pressure: 10 bar
Temperature: -20°C to +70°C
Threads: BSPP, BSPT
Ø metric: 6 mm to 12 mm

Piloted Non-Return Valves
Function: provides safety by locking the cylinder piston
Materials: nickel-plated brass, polymer
Pressure: 10 bar
Temperature: -5°C to +60°C
Ø metric: 6 mm to 12 mm
Threads: BSPP

Non-Return Valves
Function: allows air to pass in one direction only
Materials: polymer, nickel-plated brass
Pressure: 10 bar
Temperature: 0°C to +70°C
Ø metric: 4 mm to 12 mm
Threads: BSPP, BSPT, metric

Adjustable Non-Return Valves
Function: allows air to pass in one direction with an adjustable opening pressure
Materials: FDA chemical nickel-plated brass
Pressure: 12 bar
Temperature: -20°C to +80°C
Threads: BSPP, metric

LIQUIFIT® Non-Return Valves
Function: allows fluid to pass in one direction only
Materials: polymer for food applications
Pressure: 10 bar
Temperature: 0°C to +65°C
Ø inch: 1/4″ and 3/8″

Stainless Steel Non-Return Valves
Function: allows fluid to pass in one direction only
Materials: stainless steel
Pressure: 0.5 to 40 bar
Temperature: -20°C to +180°C
Ø metric : 10 mm to 25 mm
Threads: BSPP, NPT

Soft Start Fittings
Function: protects the installation at start-up
Materials: polymer, nickel-plated brass
Pressure: 3 to 10 bar
Temperature: -15°C to +60°C
Ø metric : 8 mm to 12 mm
Threads: BSPP

Pneumatic Sensor Fittings
Function: pneumatic or electric output signal , detects end of cylinder rod stroke
Materials: polymer, treated metal
Pressure: 3 to 8 bar
Temperature: -15°C to +60°C
Ø metric: 4 mm
Threads: BSPP, metric

Pressure Regulators/Pressure-Reducers
Function: limits the maximum pressure delivered to pneumatic equipment
Materials: polymer, treated metal
Pressure: 16 bar (upstream), 8 bar(downstream)
Temperature: -15°C to +70°C
Ø metric: 4 mm to 10 mm
Threads: BSPP

Snap Connectors
Function: isolates a circuit without venting the whole system
Materials: polymer, nickel-plated brass
Pressure: 10 bar
Temperature: -20°C to +80°C
Ø metric: 5 mm to 7 mm
Threads: BSPP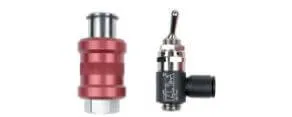 Manually-Operated Valves
Function: opens/closes a circuit, with or without venting
Materials: polymer, nickel-plated brass, aluminium
Pressure: 16 bar, 10 bar
Temperature: -10°C to +80°C
Ø metric: 4 mm to 10 mm
Threads: BSPP, metric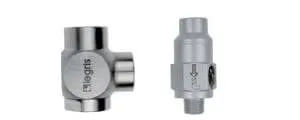 Metal Quick Exhaust Valves
Function: increases the return speed of the cylinder
Materials: nickel-plated brass, aluminium, stainless steel
Pressure: 10 bar
Temperature: -20°C to +70°C
Threads: BSPP, BSPT, metric

Silencers
Function: reduces noise levels
Materials: sintered bronze, polyethylene,stainless steel, nickel-plated brass
Pressure: 12 bar
Temperature: -20°C to +180°C
Ø metric: 4 mm to 12 mm
Threads: BSPP, metric, NPT
Compression Fittings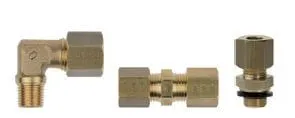 Brass Compression Fittings
Fluids: compressed air, non-corrosive industrial fluids
Materials: forged or machined brass
Pressure: 550 bar
Temperature: -40°C to +250°C
Ø metric: 4 mm to 28 mm

Stainless Steel Compression Fittings
Fluids: compressed air, coolants, industrial and corrosive fluids
Materials: 316L stainless steel
Pressure: 400 bar
Temperature: -40°C to +250°C
Ø metric: 6 mm to 16 mm

PL Nickel-Plated Brass Spigot Fittings
Fluids: compressed air, compatible industrial fluids
Materials: forged or machined nickel-plated brass
Pressure: 40 bar
Temperature: -40°C to +100°C
Ø metric: 4 mm to 14 mm Suffix
Industrial Valves

Ball Valves, Universal Series
Fluids: compressed air, slightly corrosive fluids
Materials: nickel-plated forged brass
Pressure: 40 bar
Temperature: -20°C to +80°C

Ball Valves, Universal Series, Vented
Fluids: compressed air, slightly corrosive fluids
Materials: nickel-plated forged brass
Pressure: 40 bar
Temperature: -20°C to +80°C

Ball Valves, Universal Series, Lockable
Fluids: compressed air, slightly corrosive fluids
Materials: nickel-plated forged brass, galvanised steel and epoxy locking system
Pressure: 40 bar
Temperature: -20°C to +80°C

Ball Valves, Universal Customised Series
Fluids: compressed air, many fluids
Materials: nickel-plated forged brass, choice of seal material (NBR, EPDM, FKM, PTFE…)
Pressure: 40 bar
Temperature: -20°C to +100°C

Ball Valves, Universal Light Series
Fluids: compressed air, slightly corrosive fluids
Materials: forged brass or nickel-plated forged brass
Pressure: 12 bar
Temperature: -20°C to +80°C

Ball Valves, DVGW Series
Fluids: compressed air, water, gas
Materials: nickel-plated forged brass
Pressure: 40 bar
Temperature: -40°C to +170°C

Ball Valves, Standard Series
Fluids: compatible fluids
Materials: nickel or chromium-plated brass with PTFE seal
Pressure: 35 bar
Temperature: -20°C to +130°C

Ball Valves, Stainless Steel Series
Fluids: all fluids
Materials: 316L stainless steel
Pressure: 65 bar
Temperature: -20°C to +150°C

Ball Valves, Stainless Steel Light Series
Fluids: all fluids
Materials: 316L stainless steel
Pressure: 65 bar
Temperature: -20°C to +120°C

Ball Valves, High Pressure Series
Fluids: lubricants, gases
Materials: zinc-plated brass
Pressure: 300 bar
Temperature: -15°C to +80°C

Ball Valves, Mini Series
Fluids: compressed air
Materials: technical polymer
Pressure: 10 bar
Temperature: -20°C to +80°C
Ball Valves, LIQUIfit®
Fluids: water, beverages, CO2, inert gases
Materials: polypropylene, EPDM seal
Pressure: 10 bar
Temperature: -15°C to +100°C

Needle Valves, Brass
Fluids: compressed air, industrial fluids
Materials: shot-blasted forged brass, nickel-plated
Pressure: 120 bar
Temperature: -20°C to +100°C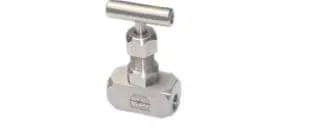 Needle Valves, Stainless Steel
Fluids: all fluids
Materials: 316L stainless steel
Pressure: 400 bar
Temperature: -20°C to +180°C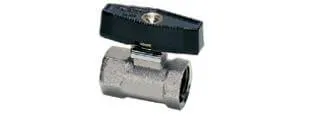 Butterfly Valves
Fluids: compressed air, abrasive fluids
Materials: shot-blasted forged brass, nickel-plated
Pressure: 16 bar
Temperature: -20°C to +80°C

Axial Valves
Fluids: compressed air, industrial fluids
Materials: nickel-plated brass
Pressure: 10 bar
Temperature: -20°C to +135°C
Threads : 3/8″ to 2″
Industrial Blowguns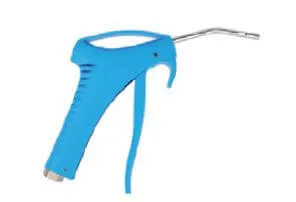 Standard Blowgun
Fluids: compressed air
Materials: technical polymer, NBR
Pressure: 10 bar
Temperature: -15°C to +50°C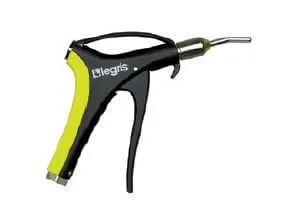 Safety Blowgun
Fluids: compressed air
Materials: technical polymer, NBR
Pressure: 10 bar
Temperature: -15°C to +50°C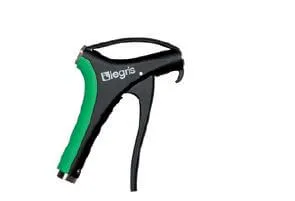 Energy-Saving Blowgun
Fluids: compressed air
Materials: technical polymer, NBR
Pressure: 10 bar
Temperature: -15°C to +50°C
Versatile Blowguns
Fluids: compressed air
Materials: technical polymer, NBR
Pressure: 10 bar
Temperature: -15°C to +50°C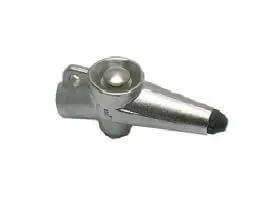 Metal Blowguns
Fluids: compressed air
Materials: forged nickel-plated brass, NBR
Pressure: 10 bar
Temperature: -15°C to +50°C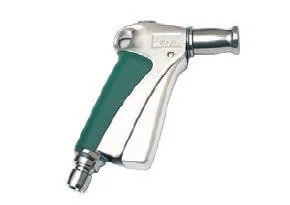 Water Pistol
Fluids: industrial fluids and water
Materials: zamak, NBR
Pressure: 20 bar
Temperature: -20°C to +100°C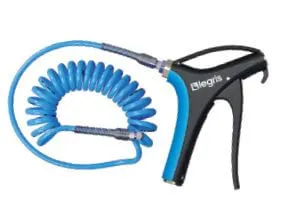 Blowgun Kits
Fluids: compressed air
Materials: technical polymer
Pressure: 10 bar
Temperature: -15°C to +50°C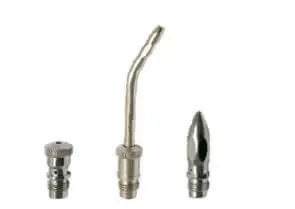 Nozzles
Fluids: compressed air
Materials: nickel-plated brass
Pressure: 10 bar
Temperature: -15°C to +50°C
Quick-Acting Couplers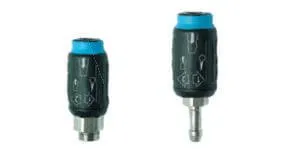 C 9000 Polymer Quick-Acting Safety Couplers
Fluids: compressed air
Materials: reinforced technical polymer, nickel-plated brass
Pressure: 16 bar
Temperature: -20°C to +60°C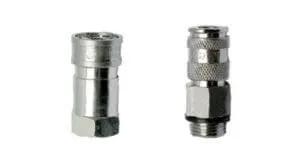 Metal Quick-Acting Couplers
Fluids: compressed air, water, industrial fluids
Materials: nickel-plated brass or stainless steel
Pressure: 35 bar (stainless steel), 20 bar (brass)
Temperature: -15°C to +200°C (stainless steel), -20°C to +100°C (brass)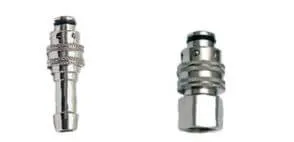 Metal Quick-Acting Mould Couplers
Fluids: heat transfer fluids
Materials: nickel-plated brass
Pressure: 10 bar
Temperature: -15°C to +90°C